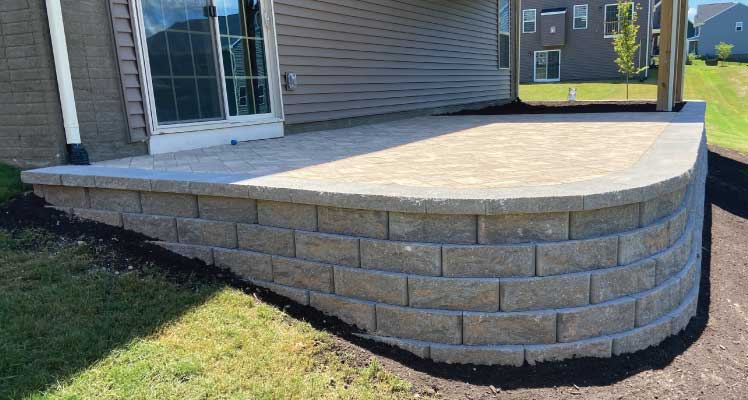 Williamsburg, VA Patio Installation
American Dream Landscapes can help you achieve the patio of your dreams with a custom installation on your property.
Want to improve the beauty and function of your property? There's not much out there that beats a custom patio installation.
Do you want a few more reasons to go through with a custom patio installation on your property? Of course, you do!
According to the 2018 Remodeling Impact Report: Outdoor Features published by the National Association of Realtors:
84% of people indicated an increased desire to be home after adding a patio
83% indicated an increased sense of enjoyment since adding a patio
In the same study, an outdoor patio ranked in the top 5 features that appeal to potential home buyers.
A patio is something your friends and family will enjoy for years and a solid investment if you ever decide to sell. What a combo!
A Custom Patio Install Fulfilling Your Wants and Needs
When we say custom, we mean custom. We've never designed and installed patios that have been exactly the same.
American Dream Landscapes is dedicated to quality and giving the people what they want. We're confident we can design and install a patio you will proudly show off for years to come with so many colors, materials, and design options.
Common Types of Materials Used in Patio Installs:
Pavers
Natural Stone
Flagstone
Brick
Cobble Stones
Granite Paver
Bluestone
The great thing is when designing; there are no rules about sticking to one type of material. A custom patio of your choice can be a combination of these materials.
When it comes to paver patios, you can utilize the pattern to create a custom look. These patterns include, but are not limited to:
Herringbone
Basketweave
iPattern
3 Piece
5 Piece
Tight Spaces, Existing Hardscapes, or Plant Removal
If you have existing landscaping features, we can work around them and ensure no damage while we're building your unique patio.
If you have an existing hardscape or deck, we can bring it down to clear space for your new patio.
Is there a tree, shrubs, or any other kind of plant life currently in the spot you're envisioning for your patio? Don't worry. We can take care of that too.
We can make it happen no matter what may stand in the way or what you want to preserve.
Contact American Dream Landscapes For Your Free Patio Installation Estimate
With so many patio options out there, you may feel overwhelmed. Don't worry. We can help you.
If you're thinking about a patio installation and want more information, contact us.
Here's what we'll do. We'll come to your property and view your space. We'll listen to what you want to accomplish. We'll talk about all the available options that fit within your budget.
After gathering all of this information, we'll provide you with a free estimate of your patio installation. No obligation. No hard sell. Just the facts about what we can do for you.
Sound good?
American Dream Landscapes installs patios in Williamsburg, James City County, and York County.
Daniel was responsive and gave a fair quote for the work. His crew was professional, knowledgeable, on time, and even worked one day in miserable conditions. The end result is fantastic, safer, and with an attention to craftsmanship better than whomever did the original installation.

We highly recommend American Dream Landscapes!
Request Your Free Estimate Today!